PSTP Basic Welcome Package
PSTP Extended Welcome Package
3 months
6 months
box office: equipped with desk, internet access 20/2 Mbps, phone number, xero 250 pages
box office: equipped with desk, internet access 20/2 Mbps, phone number, xero 250 pages
conference rooms: 8h per month
conference rooms: 8h per month
support:

3h registration of company consultancy,
3h legal consultancy and accounting consultancy,
3h business consultation (business plan, business models, business concept).

support:

3h registration of company consultancy,
3h legal consultancy and accounting consultancy,
3h business consultation (business plan, business models, business concept),
3h market entry consultation,
3h financial consultation,
3h business partners searching.

cost (per package): 4900 PLN (net), approx. USD 1290
cost (per package): 9800 PLN (net), approx. USD 2580
For more information, please contact:
Anna Tórz
e-mail: anna.torz@ppnt.poznan.pl
tel. +48 664353401
We help companies and research teams in the development of new technologies and improvement of the existing ones.
 We cooperate with scientists from research centres based in Poznan and exploit scientific discoveries in industrial practice.
 We are characterised by a wide range of research capabilities:
development of basic technological assumptions for the synthesis of chemicals and biochemicals,
balancing and scaling of chemical processes,
development of methodology for isolation and purification of synthesis products,
optimisation of chemical and biotechnological processes,
determination of possible recycling or disposal of process waste,
compilation of environmental instructions for a process design.
The board of experts, who can use unique research equipment, is able to provide a technological solution improving the product or the manufacturing method for customers from various lines of business (food industry, cosmetics, chemical industry, etc.). Each solution is developed individually, in a close cooperation with the employer.
Comprehensiveness of the service is ensured by specialised laboratories for chemical, biotechnological, process in supercritical CO2, photovoltaics and bioremediation work as well as the support for laboratories located at the Poznan Science and Technology Park (Chemical Technologies Incubator, Waste-Cluster research laboratory, Poznan Radiocarbon Laboratory).
PSTP is a member of Enterprise Europe Network (EEN). The Network helps small and medium-sized enterprises (SMEs) make the most of business opportunities in the EU and beyond. If you need a certain technology or innovation to complete your business or a business application for your technology, the Network can help. We can help your business grow through tailored support and new partnerships. We can also advise you on how to find partners to apply for EU-funded joint research projects.
For more information, please contact:
Grzegorz Cieśla,
grzegorz.ciesla@ppnt.poznan.pl
+48 61 827 97 46
Poznan Science and Technology Park is a complex with offices and laboratories created for the needs of developing technology companies.
One location offers research infrastructure and laboratories with a convenient office space and conference rooms. The building is surrounded by greenery and provided with spacious and free of charge parking. For employees who combine professional and family life, the kindergarten within the Park's area is especially important.
With the location at ul. Rubież 46 in Poznań chosen for the seat of your company, you can take advantage of:
lease of laboratories and offices,
access to research equipment (short- and long-term lease),
IT and DataCenter services,
amenities: parking, snack bar, kindergarten.
For more information, please contact:
Tomasz Smolarz
tomasz.smolarz@ppnt.poznan.pl
tel. +48 795 520 860 or +48 61 6 226 902
Our services include
Microbiological examination of air, working surfaces and liquids.
Analysis of microbiological purity of food, animal feed, cosmetic products, cleaning agents, water, clothes etc.
Analysis of preservative effectiveness.
Examination of antibacterial and bacteriostatic properties of biologically active substances.
Bacteria screening and isolation.
Biochemical capacities of micro-organisms.
Aerobic and anaerobic bacteria growing.
Optimisation of composition of plant substrates and growing conditions.
Optic and fluorescent microscope analyses
SFE (Supercritical Fluid Extraction) The laboratory offers services of extraction from solids and optimisation of process conditions.
SFC (Supercritical Fluid Chromatography) Semi-preparative chromatograph with fraction adjustment enables the separation and purification of natural and synthesised compounds with carbon dioxide (as well as compounds with stereocentrer) acting as the mobile phase.
The laboratory features an ultra-high pressure chromatograph (UPC2) enabling the quantitative and qualitative analysis of various compounds, including ones vulnerable to various separation issues in typical chromatographic techniques, such as GC and HPLC.
Analytical & preparative chromatograph with a coupled quadruple mass detector (SFC-MS) is used for the separation, purification and identification of compounds.
Contact us:
e-mail: badania@ppnt.poznan.pl
Are contacts and exchange of knowledge and experience important to your business? Do contacts translate into a more dynamic development of your company? If so, Erasmus for Young Entrepreneurs is for you! You can participate in the European cross-border exchange programme with the help of PSTP. The initiative helps experienced companies to look for new business partners and gives aspiring entrepreneurs a chance to establish new business contacts.

About the programme. Erasmus for Young Entrepreneurs has been designed for three groups of participants:
Experienced entrepreneurs, willing to cooperate with foreign partners and use the expertise of young entrepreneurs from the EU member states;
New entrepreneurs who have started their own business within the last 3 years;
Aspiring entrepreneurs who would like to start a business, based on a viable business plan.
New and aspiring entrepreneurs have a chance to go for an exchange in a selected country of the European Union. Experienced entrepreneurs, on the other hand, can benefit from fresh ideas of new entrepreneurs and their business contacts. They will host young entrepreneurs for the period of 1 to 6 months. The new entrepreneurs' subsistence costs are covered by the European Commission. The financial support amounts to EUR 530-1100, depending on the country in which a host entrepreneur is based.
Future participants should have relevant education, experience and a concrete business idea reflected in a business plan. Those who wish to participate in the programme as new entrepreneurs should also have a good command of foreign languages and, above all, be ready to present their idea for a business. Being able to present a cooperation plan between NE (New Entrepreneur) and HE (Host Entrepreneur) is also most welcome.
You can participate in the programme by filling in the application form online:   www.erasmus-entrepreneurs.eu. When applying, please remember to choose Adam Mickiewicz University Foundation (a unit managing Poznan Science and Technology Park) as an IO – Intermediary Organisation. New and experienced entrepreneurs who will successfully go through the recruitment process will sign an agreement in which terms and conditions of the exchange will be stipulated.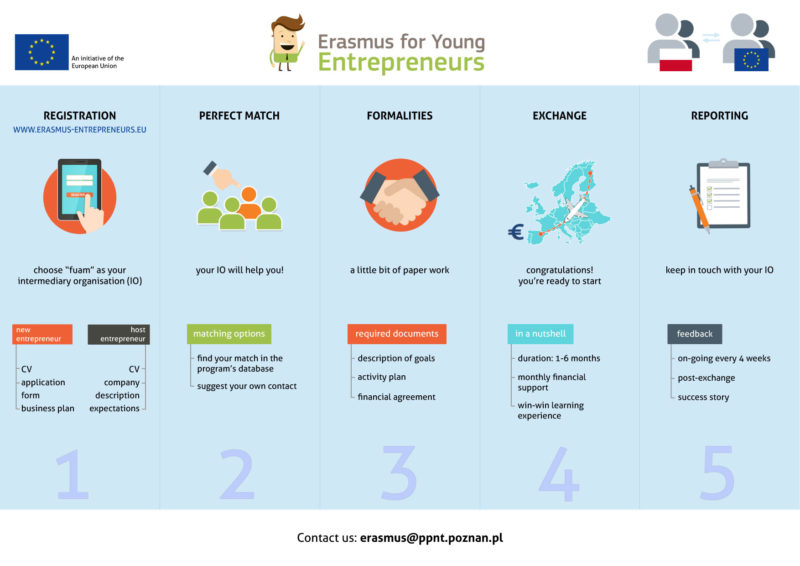 You can download the infographic HERE
How can you benefit from the programme?
Big companies will have a chance to liaise with new business partners implementing innovative ideas;
For host entrepreneurs, collaboration with young colleagues from various European countries is a chance to expand the scope of their business abroad;
For young entrepreneurs, participating in the initiative is a chance to gain expertise and experience which can help them to improve or sharpen their business plan;
Young companies can also find a valuable contractor with whom they can cooperate later on;
The exchange is co-funded by the European Commission; the interested parties are exempted from the majority of costs.


For more information please contact us through e-mail: erasmus@ppnt.poznan.pl.

Partners:
Freedom to Operate is an ability to sell or commercialise a product or service in a specific area and timeframe without infringement of IP rights held by another entity. Before any crucial business decision, especially before entering a foreign market with new product or technology, a Freedom to Operate Analysis is essential. Thanks to FTO Analysis it can be determined if similar products or technologies are already present in a certain area and if there is any risk in infringement.
Poznań Science and Technology Park (PSTP) provides an analysis of competing patented ideas and develops a professional Freedom to Operate analysis in order to determine whether a given solution does not violate the rights of other entities. Patent applications and patents as well as scientific articles and the offers of competing companies are analysed.
Freedom to Operate analysis is also necessary when applying for grants under SME Instrument phase I and II.
If necessary, PSTP experts provide contact with the patent attorney.
Why should you use our services?
Freedom to Operate analysis helps to determine if your solution does not violate the rights of other entities before they are introduced to the new market, which reduces costs and the risk of possible claims and damages;
Team of PSTP experts prepare a reliable analysis and conclusions based on the information from the professional PatSnap patent database and other free-of-charge patent databases (Google Patents, Espacenet, Patenscope and others)
PSTP has great experience in preparation of FTO analysis for different kind of entities such as: SMEs, private and public R&D institutions and universities.
Contact
Jan Chełkowski – Key Account Manager
phone: +48 61 827 97 36 / mobile +48 602 588 452
e-mail: Jan.Chelkowski@ppnt.poznan.pl
Gain a better understanding of your clients and tailor your products or services to their needs. We offer a training programme based on Design Thinking. The idea behind Design Thinking is to quickly generate and test ideas (e.g. products, services, processes) based on users' actual needs.
Our target group:
individuals responsible for problem-solving in companies;
managers and team leaders who would like to learn how to tailor products to the client's needs;
people who are aware of the crucial role of effective communication in business.
During the workshop you will find out how to:
manage and stimulate team members so that they can work effectively for the client or end user;
test ideas cost-efficiently;
implement Design Thinking that can benefit your business in the future.
A five-step workshop plan:
empathy – gathering information from the clients effectively;
defining the challenge;
generating ideas;
creating prototypes;
testing.
Organisation of the training programme:
workshop;
working on a challenge identified by the trainers or your company; the form depends on the aims that we will define together;
the client and the organisers choose the location;
8 hours (including breaks).
For more information, please contact:
Maciej Nowak
maciej.nowak@ppnt.poznan.pl
+48 61 72 207
Meredith Belbin's team roles are tendencies to behave and interrelate with others in a particular way that may influence team effectiveness.
Find out more about your team and select the best candidate to fulfil each role. You can do it by taking part in a simulation game. The game has an engaging plot and is based on commonly recognised methods. Participants start to create their own reality and build a village in which they have to survive.
The form of the game fosters cooperation, creative thinking, and economic use of limited resources.
Our target group:
The workshop has been created for the companies wishing to build an effective team and provide their employees with knowledge and skills that will help them perform their duties more effectively.
During the workshop you will find out:
how team roles are defined in the theory developed by Meredith Belbin
what team roles would Belbin assign to a given employee
what aspects and features, besides competences, should be taken into account in teamwork and the recruitment process
How is our workshop organised:
a team-building simulation game
place: the Client's premises or any other location suggested by the Client
duration: 4 hours
For more information, please contact:
Maciej Nowak
maciej.nowak@ppnt.poznan.pl
+48 61 72 207
EYE Global (Erasmus Global for Young Entrepreneurs) is an international program that allows aspiring entrepreneurs from Europe to travel abroad and work with experienced business owners from: Israel, Canada (Ontario, Quebec), Singapore and the United States (California, New York).
The program has its roots in the popular Erasmus for Young Entrepreneurs program  which has been operating in Europe since 2009 and has already helped 20,000 people.

EYE Global is an exchange, not an internship. The program is first and foremost an opportunity to develop international partnerships useful for the development of businesses on both sides. The partners work together for a period of 1 to 3 months to implement new ideas, develop the business, and advance the knowledge and business of the Young Entrepreneur. Thanks to this, the person going on the exchange gains a unique opportunity to learn, gain international contacts and benefit from the experience of another entrepreneur with greater seniority.  The host, on the other hand, has the opportunity to cooperate with an ambitious, motivated and full of fresh ideas foreign guest, who may turn out to be a valuable business partner in another part of the world.
The costs of the exchange are partially covered by the European Commission. The financial support ranges from 600 to 1000 Euro per month and partial refundation of travel costs.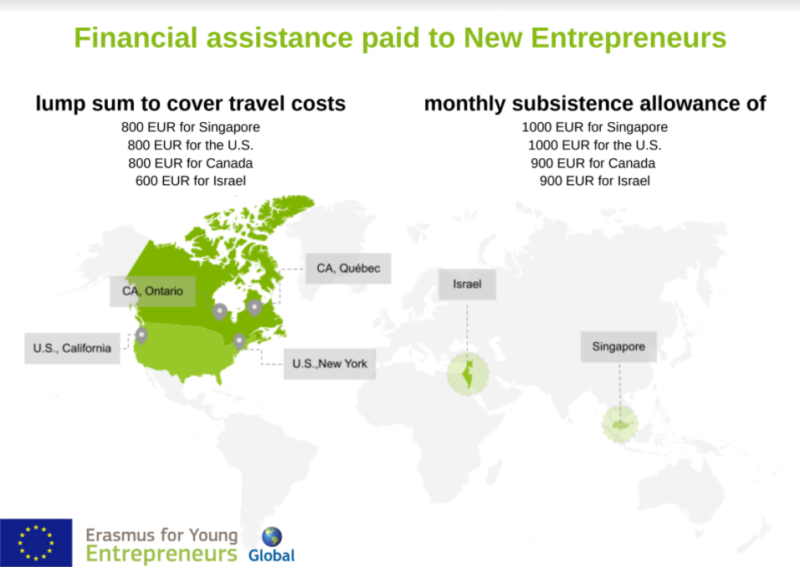 Those interested in the exchange, must demonstrate professional experience, education and a feasible business concept. Those interested in going should also speak a foreign language, and most importantly, present a business plan for their venture.
EYE Global is for you if:
– You are looking for a way to create valuable international business relationships.
– You want to develop a network of contacts in foreign markets relevant to your business.
– You have a viable business idea and want to develop it in cooperation with an experienced entrepreneur from abroad.
– You have been active on the market for no longer than three years and feel that international cooperation will allow you to spread your wings.
If you are not convinced yet, remember that EYE Global is:
– A chance to gain the necessary knowledge and experience to improve your business plan.
– A way to gain new business relationships and more.
– A chance to test your business idea on global markets.
– A unique opportunity to find an interesting partner for further cooperation on the market you're going to explore.
– Funded by the European Commission a chance for your enterprise.
How?
Write to:
We will be happy to explain how you can apply and help you choose an experienced entrepreneur to work with!
https://twitter.com/eu_eyeglobal
https://www.facebook.com/EU.EYEglobal/
Partner: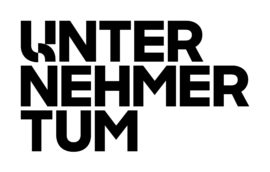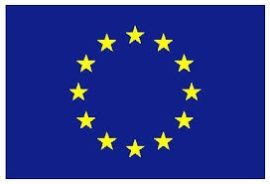 An initiative of the European Union